A Brief Intro
Extraordinary is truly an extraordinary word. It's one of those random compilations of letters that creates a sound exactly like the meaning it represents. There are many extraordinary things in the world, but more importantly, there are many extraordinary people. Perhaps that's what makes our world extraordinary. We come across extraordinary people every day of our lives, but often we don't recognize them because society has decided to choose for us what extraordinary should be, something truly vile and for lack of a better word, ordinary. For if we try to become someone else's extraordinary, we become ordinary. And who wants to be ordinary?
​
Everywhere I go these days, I feel like people are telling me every which way I look to be more fashionable, or more intelligent, or more beautiful, to be a certain type of extraordinary which is certainly not me. Social media, magazines, and now personal blogs have become mediums for society to try to mold you into a very specific type of person, an extraordinary person, honestly a too perfect person whom I probably wouldn't like. I will tell you right now I am not that person. I don't wear cute clothes, I don't go to trendy places, I am extremely unphotogenic which makes it difficult to post nice pictures, I'm not popular. I'm not so many of these requirements to be extraordinary, which from time to time has made me feel quite down about myself. But when I really think about it, all the people who do manage to meet these requirements are simply extraordinarily ordinary. It's quite a shame, to be honest. Because every person has such a capacity inside them to be their own extraordinary, they just have to find it. And most are wasting their time trying to be someone else's extraordinary.

So what I suppose what I am trying to get to, after my long winded philosophy above, is that this site is simply a way for me to search for the extraordinary somewhere inside of me. So here I am, expressing myself in the best way I can, through writing.Meanwhile, read a little if you wish, maybe think to yourself how weird I am, and hopefully be inspired by my own weirdness to discover the weird quirks inside you that make you absolutely extraordinary.
Powered by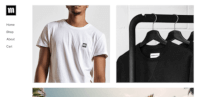 Create your own unique website with customizable templates.