Claire Crafts
Claire Crafts is a young author and poet living in Southern California. Not so long ago, she was a young, avid reader with a book in one hand and a dream in the other. She was absolutely thrilled to present to you the culmination of this dream in the form of her first novel "Trust the Wind" and continues to find joy in sharing her writing and thoughts through multiple mediums. When not writing, she enjoys travelling, spending time with friends, adventuring with her five siblings, and reading.
Contact
email me at clairecrafts02@gmail.com

personal instagram: @clairecrafts

follow my writing page for post updates! @clairecrafts.writing
"To laugh often and much, to earn the respect of intelligent people and the affection of children, to earn the appreciation of honest critics and endure the betrayal of false friends, to appreciate beauty, to find the best in others, to leave the world a bit better, whether by a healthy child, a garden patch, to know that one life has breathed easier because you have lived. This is to have succeeded." -Ralph Waldo Emerson
Powered by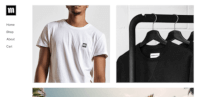 Create your own unique website with customizable templates.